Here Comes Gutter Cleaning Season in LBI
Keeping your house spick and span is important to your physical and mental health. It can also keep your household feeling a bit more sane amongst the craziness of kids and pets. And having a clean inside is just as important as a tidy exterior. Experienced homeowners know that maintaining the cleanliness of the outside of their home is not just an aesthetic move, but a protection move as well. Protecting your home from built up dirt, debris, and leaves can increase the longevity of your home.
As Fall comes, new chores arise in terms of maintaining the exterior of your home. Homeowners don't have to worry as much about gardening or cutting the grass, but raking the leaves is very important! And unfortunately leaves don't always fall in the middle of your yard. They can end up in some very hard to reach places, like in your gutters.
How Does Gutter Cleaning Work?
Gutter cleaning in LBI can be a dangerous task, especially for the beach homes with multiple levels. For those of us not comfortable with heights, don't fret about calling a professional to help with some of your home exterior maintenance. They'll make the process quick, easy, and painless. There are a couple of methods that companies will use for gutter cleaning in LBI. There is a specific gutter tool that can be used to pull out debris from the gutters. It's actually attached to a pole, so in some cases the professional won't even have to get on a ladder.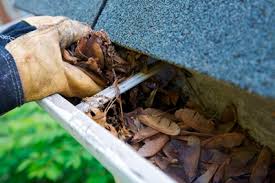 In other cases the company may choose to use a blower to quickly and effectively clear out lots of debris out of a gutter and off the roof of a home. Most companies promise they will clean up whatever mess is the result of this blowing. This way homeowners have the comfort of knowing the job is getting done well, and that the person doing the job is comfortable and used to heights.
Sometimes these professionals may even find bird nests or other unwanted animal hidings on your roof. With your approval they are trained to remove anything of this nature.
Should I Purchase a Gutter Protection System?
Gutter protection systems can be an alternative to gutter cleaning in LBI. They cover the gutters so that fewer leaves, needles, etc. can get into your gutters and clog them. This kind of system can be a great choice, but it doesn't necessarily mean you won't still need to get your gutter cleaned periodically. So perhaps it will reduce the amount of cleaning you will do. Gutter protection systems may also be not as helpful if the rest of your roof still seems to be getting dirtied by debris and leaves. Then an overall cleaning is still required.
What About my Roof?
Gutter cleaning in LBI is important, but so is the surface of your roof. The roof of a home is usually cleaned before the gutters, as debris will only fly into the gutters from the roof. When cleaning a roof, often look for moss to remove, as this will be the hardest to get off. For any difficult moss or other growth, a brush is used to scrape it off the roof. Professionals don't use a powerwasher on a roof, but only a blower to preserve the layers of shingles.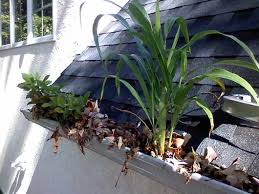 A blocked gutter can lead to water overall and improper drainage. This could in turn lead to quicker deterioration of your house siding. So take the preventative steps necessary and make sure your gutters are always properly cleaned whether it's by you or a hired professional. Contact us today at Island Powerwashing for any gutter cleaning services, as well as any powerwashing services.